Trade LAMB and Win 3 million LAMB
Dear users,
Between 14:00 on January 8 and 14:00 on January 15, 2019(GMT+8), successfully registered and verified users with the trading amount (buy amount + sell amount, excluding self-trading) equal to or greater than 10000 LAMB can be counted as valid users. TOP 600 valid users can share 3,000,000 LAMB. Rewards will be issued 7 working days after the offer ends.
Lucky prize: We will randomly select 2 lucky users from TOP 50 valid users, who will be eligible for Validator after LAMB's main net online.
Click here to register: https://jinshuju.net/f/LtDm6o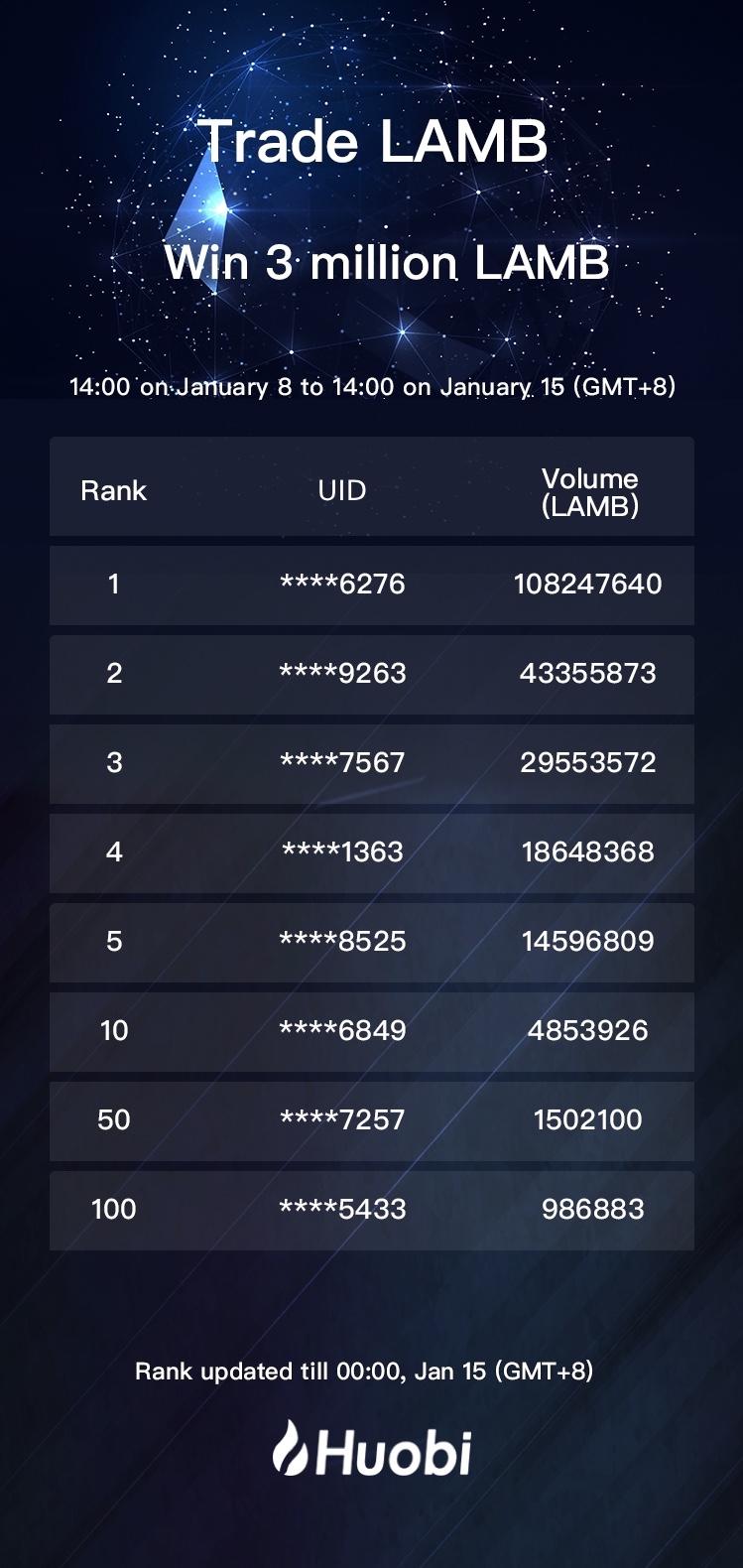 (The rankings will be updated on this page before 20:00 (GMT+8) on each working day, and the final list will be published within three working days after the end of the campaign. If no winners are reported within three working days after the final list is published, rewards will be issued according to the rankings within 7 working days of the end of the campaign.)
The final interpretation of this campaign belongs to Huobi Global. If there are cheating, scalping or bucketing, Huobi Global has the right to disqualify the user from the rewards. Except for VIP users who use Point Cards to deduct trading fees or enjoy fee discounts, users who enjoy other special discounts on fees will be ineligible for the reward.
Risk reminder:
Digital assets are innovative investment products, and their prices fluctuate greatly. Please judge your investment ability rationally and make investment decisions prudently.
Enjoy your trading on Huobi Global!
Huobi Global
January 8, 2019