【APAC EXCLUSIVE】: Trade More & Save More For Existing API users!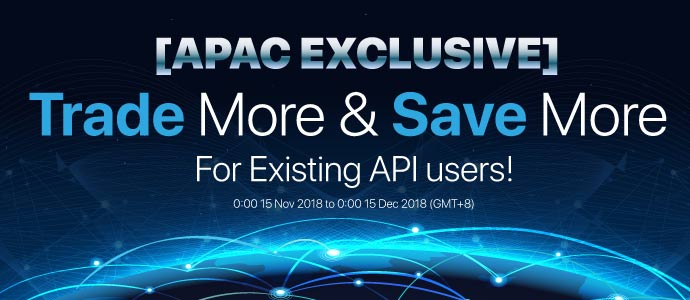 From 0:00 November 15 to 0:00 December 15 (GMT+8), qualified existing users may trade up to a given BTC target by Huobi and stand to enjoy discounted trading fees for an equivalent period after the event ends.  
To participate in the above, user must be an existing API user with an average monthly trading volume of 10 BTC. 
Promotion Period:
Registration and sign up deadline: 0:00 14 Dec 2018 (GMT+8)
Trading Event period: 0:00 15 Nov 2018 to 0:00 15 Dec 2018 (GMT+8)
Click here to sign up: http://bit.ly/2DcKVXf
Eligibility/Requirements:
Promotion is open to all countries in the APAC region including Turkey & Russia. China, Korea, Japan and Vietnam shall be excluded.

Participation is strictly by private invite via email or RM invite. Interested parties with minimum 10 BTC monthly trading volume may sign-up via http://bit.ly/2DcKVXf . Our relationship managers (RM) will contact you with more details.
Participants must have successful verification (ID upload) with registered IP and authenticated country in the user's country e.g. Russian in Russia
Eligible winners are subject to Huobi's KYC and Anti-Fraud Review. Only eligible winners that pass Huobi's KYC and Anti-Fraud Review shall qualify for the rewards.
Cumulative trade volume definition: Participant's cumulative trading volume (buy and sell) via API trading only during event period. No self-deal. BTC value will be calculated based on daily end-day closing price at 0000hrs.
The effective date of the award: The qualifying API user will be notified via private email (eDM) within 7 working days after end of promotion. If no dispute within 3 working days after announcement of final list, the rewards will be awarded in the next month. Enablement of reward will only apply after any existing subscribed VIP packages expire (where applicable).
Discount may be given via fee refunds or setting custom rates (VIP, Point Cards not usable during the discount period) as per Huobi's discretion. The discounted trading fee rate when in effect, will not allow combined use of Points card and VIP. Rewards will be based on transaction fee method. Example: USDT refund for USDT fees paid. Reward level depends on the new users achieving the total trading volume for the event period.
With the exception of using POINT cards to pay for transaction fees or VIP users who enjoy discounted service fee, users who enjoy other special rate discounts (including market-makers)are not eligible for the award. Additional Super Rebate standard cash rebates can apply.
Users can participate in other Asia Pacific activities during the same or overlapping period, but can only receive rewards from a single event, not all.
Please be advised that the promotion period could be extended. To ensure an orderly reward mechanism, the reward will be enabled once the entire promotion ends.
The rules and regulations of the promotion shall be subject to Huobi's final interpretative decision and we reserve the rights to disqualify any person who is known or suspected to be cheating or violating any rules and regulations set by Huobi.
Risk Reminder:
Investing in digital assets comes with high risks due to huge price fluctuations. Before investing, please have a full understanding of all the risks of investing in digital assets and be prudent of your own investment decisions.
Follow us on:
Huobi Global Official (Telegram Group): https://t.me/huobiglobalofficial
Blog: https://blog.huobi.com/
Facebook: https://www.facebook.com/huobiglobalofficial
Twitter: https://twitter.com/HuobiGlobal

Enjoy your trading on Huobi Global!

Huobi Global
November 14, 2018